I was planning to make this post special as its the 50th lunch box I am sharing. But life has been hectic off late. For us, special occasions are celebrated with sweets, but since I rarely take sweets to office unless its a Saturday when I make neivedyam. So I can't expect myself to make a sweet to celebrate the milestone. Instead I thought the next best would be to make something I like very much!

And Jack fruits are one of my favorites! Be it the fruits or its seeds, I like everything about it. I grew up eating this fruit and there is nothing I can like more than the seeds that we save to use it in different ways. Amma makes a sambar and a curry with it. Most of the time I used to make a dry saute with it, which is very crisp and flavorsome! And there have been times when we simply throw them into hot coal, and burn the seeds. The aroma and the taste the seeds have are simply awesome. But then having a coal stove is quite difficult in these days. So I try tossing them on direct flame, though you don't get that burnt smell this way, its equally tasty.

During my childhood, we had many of my dad's folks sending us this bounty from their trees. So come summer, we used to get about 5 -6 different big fruits. The next couple of days we are busy removing the fruit and sharing with the neighbors. That way we used to end up having loads of these seeds. But its been years we stopped getting those huge fruits as such. This summer hubby dear gets it all packed. Each packet has about 10 of it and its finished the moment its seen. The best part is, Konda likes it. So most of the time I get only the seeds to admire.

We save most of it all the time to think of some curry or the other. Adding these into sambar gives it a great taste. But I wanted to make it as a poriyal with simple ingredients. So here's our lunch that I carried




Today's Lunch Box had

Endumirapakaya Pappu ~ Dal with Red Chilli
Bitter gourd Masala
Jackfruit Seed Poriyal
Cumin pepper Rasam
Curd Rice



Red Chili Dal, Bitter Gourd Curry, Jackfruit Seeds Poriyal ~ Our Lunch Box

Jackfruit Seeds Poriyal Recipe
Ingredients Needed:

Jack fruit Seeds - 10 nos
Onions - 1 small, chopped fine
Curry leaves - 4-5 leaves
Mustard seeds, Urad dal - 1/4 tsp
Red chili powder - 1/2 tsp
Coriander powder - 1/2 tsp
Turmeric powder a pinch
Salt to taste
Oil - 2- 3 tsp

Method to prepare:



Pressure cook the Jack fruit along its jacket. Once its cool, remove the outer skin.
In a pan, heat oil. Once its hot splutter the mustard seeds, Urad dal, curry leaves and fry for 2 mins. Then add the onions, saute well till its lightly brown.
Then add the cooked jackfruit seeds, along with red chili powder, coriander powder, turmeric powder and salt.
Simmer for 5 - 7 mins till the spices mix well. You can cover with a lid for it to be steamed with the spices.
Remove the lid and cook again for 4 -5 mins, for the seeds to become crispy.



Jack fruit Dry Saute, Panasa ginjala vepudu,
The lunch was very tasty, with the spicy dal going so well with the crispy fry. Of course the crispiness goes down after being packed for 3 -4 hours. But since I microwave my lunch it got crispy again.
Sending this to Margot for her
Wholesome Lunchbox event
!
Its a beautiful event that showcases lunch boxes across the globe!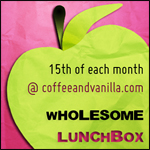 Happy Weekend!
Labels: Dry Curries, Lunch Box Recipes, Vegetarian Recipes